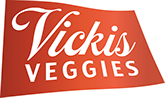 Growing more than just veggies...
we're growing good jobs, good land & good community!
To keep informed and up-to-date on what's happening with the farm.
Special events, market news, harvest updates, recipes and more!
On-farm event! Two days. Labour day weekend.
A great way to celebrate the end of summer and really just the start of tomato season!
Taste your way through over 100 varieties of tomatoes. Wash it down with something else from a gathering of food trucks. Browse visiting artisans boothes. Relax and chill-out with a glass of freshly squeezed lemonade.
© Vicki's Veggies 81 Morison Point Road RR#2 Milford, Ontario K0K2P0
RECIPES
A small collection of recipes that have become favourites of ours:
A Tomato Season "must have!"